Laughter Yoga and it's revolutionary effect on our life!
Laughter yoga is one of the most revolutionary concepts which is exponentially overtaking the entire world. Scientifically proven benefits of laughter yoga make it a mandatory healthy exercise routine.
Laughter is a gift of nature given to humans from existence. Only humans have a privilege to laugh. But due to stress, anxiety, depression, and negative thought patterns our physical, mental, emotional, and social health is deteriorating day by day. Further, leading us to the deadly incurable diseases like cancer, hypertension, diabetes, etc.
Laughter yoga training are the best way to change your life and the lives of others. It's like bringing the light of laughter and joy in your life.We at Yoga Chaitanya offer following world-class laughter training's
1 Day Basic Laughter Yoga Training Course
2 Days Certified Laughter Yoga Leader Training (CLYL)
Scientifically Proven Benefits
Technique of Laughing Yoga is based on a scientific research that states the body cannot differentiate between real and fake laughter. One gets the same psychological and physiological benefits.
Clinical research conducted at United States and Bangalore, India proved that Laughter lowers secretion of stress hormones (cortisol, epinephrine, etc.) in the blood stream.
1 Day Basic Laughter yoga training course
The one-day basic laughter training course is an experiential training program. In this training, new participants will get basic knowledge about Laughter Yoga.
This one-day laughter training program will cover the theory and practical experience of laughter yoga. The duration of this training is 7 hours including lunch.
Participants will get to know about the history and science of laughter yoga. Further, we will cover numerous benefits of laughter yoga and how it works on the body, mind, and soul.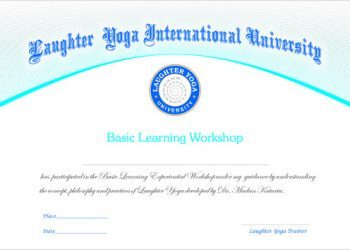 Participants will go through an experience of laughter Yoga session and laughter meditation. Further, leading to guided relaxation/ silent meditation.Participants will learn how to get involved in Laughing Yoga and its different practices.You will also learn how to laugh alone by yourself and get some practical ideas on how to bring more laughter into your lives.
This basis laughter yoga training is also for a participant who is thinking to enroll for Certified laughter yoga leader course.After completion of "1 Day Basic Laughter yoga training course" each individual will receive a certificate of completion at the end of the day.
2 Days Certified Laughter Yoga Leader Training (CLYL)
Certified Laughter Yoga Leader (CLYL) is an internationally recognized qualification. In this laughter yoga training, you will learn and practice one of the funniest and silly techniques to boost the natural laughter.
Laughter yoga techniques and methods taught in this two-day training are highly effective stress busters, team building, and confidence-booster tools.
This training program is innovated, based on the latest research on laughter yoga to make it a wonderful and life-changing experience for participants.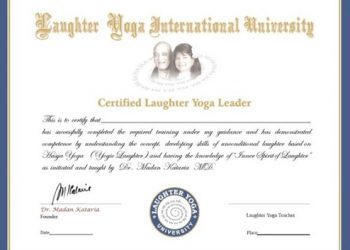 Sukhvinder Singh (Chaitanya) will lead you in this laughter yoga training. He is one of the energetic & experienced Laughter Yoga teacher. He has experience of teaching this spiritual science of laughing across India, Russia, Thailand, and Lebanon.
This laughter yoga training will enable them to lead Laughter Yoga groups in multiple settings: social clubs, senior centers, corporate workplace/retreats, hospitals, senior community living environments, yoga & fitness studios, and churches, in-service for staff, therapy, and counseling sessions.
You will also learn how to design and offer public seminars, workshop of laughter yoga, and make money using Laughter Yoga.
What you will learn in Certified Laughter Yoga Leader Training:
Concepts, history, and philosophy of Laughing Yoga.
The unique feature of laughter yoga.
Humor based model of laughter and childlike model of laughter.
How to laugh without humor or without any reason and how to teach others to do so.
Physical, mental, emotional & spiritual benefits of laughter.
Contraindications of laughter yoga.
How to explain and introduce Laughing Yoga in a laughter session.
Demonstration,training, and practice of 40 foundation exercises of laughter yoga.
Guidelines for creating your own Laughter Yoga exercises.
Laughter Meditation, Humming, and Breathing Techniques.
Guided relaxation (Yog Nidra)
Learning of facilitation skills to lead a group of people through laughter session and meditation.
Basic facilitation skills to lead various Laughing Yoga sessions. (children, seniors, corporations)
How to start your own Laughter Club and run it effectively.
Laughing alone. (For Personal Spiritual Growth)
Develop communication skills and experience the joy of connecting with others through laughter.
Laugh as you've never laughed before.
How to market your services.
Laughter boosting techniques.
Make money with Laughing Yoga.
Who would benefit from certified laughter yoga leader training:
Yoga and fitness teachers.
Senior centers care workers.
Teachers and sports coaches.
Health care professionals.
Psychiatrists and psychologists.
Training professionals for HR & management.
Entertainment professionals like clowns and comedians.
Marriage and family therapists.
Alternative therapists and Life coaches.
Nurses and social workers
Sales managers.
Tour guides & tourism professionals.
Reiki and energy healers.
Drama actor/actress.
Professional speakers.
Laughter yoga leader training is beneficial for people who wish to:
Bring a lot of laughter and joy into their lives and the lives of others.
Lower their daily stress level.
Feel healthier, lighter, younger and more energized.
Heal personal relationships as well as the relationship with yourself.
Improve communication skills, self-confidence, and emotional balance.
Manage their Anger & anxiety.
Overcome Grief (due to death of a loved one, a broken relationship, retirement, loss of health, moving away from home, loss of a job or financial stability, etc.)
What you will receive after Laughter yoga leader training:
16 Hours of training.
Laughter Yoga Leader certificate from Laughter Yoga International University.
Lifetime registration of Laughter Yoga International.
6-month free access to Laughter yoga prozone web link: http://laughteryoga.org/prozone.
Current Training Manual. (PDF and printed version)
Resource DVD.
Inner Spirit of Laughter E-Book.
Additional resources related to Laughter Yoga.
Laughter, Tears, and Silence E-Book.
You Can Heal your Life E-Book.
One week free skype /telephonic laughter meditation training classes/ support.
Upcoming Laughter yoga trainings
Laughter yoga Leader training in delhi NCR
Location : Delhi (NCR)
Dates : 27th Feb 2021 – 28th March 2021
Laughter yoga Leader training ( Online Course on weekends)
Location : Delhi (NCR)
Dates : 27th March 2021 – 25th April 2021 (2 hrs on weekends)
Frequently asked questions about laughter yoga training
Wear comfortable, loose fitting clothing.
 

Comfortable outdoor shoes.
Yoga mat or a blanket ( Preferred for final relaxation). 
Refillable water bottle.
Pen, Notebook.
Participation Fee.